Check out the Glamorous Table Design Resembling the Signature Red-Soled 
Louboutins
.
For the Ladies reading the WALL and especially for the gentlemen looking for an expressive gift for their loved one, this new exceptionally fun and elegant table design could be a beautiful acquisition for your home. Stiletto by Splinter Works was created to express the elegant shapes of a glamorous Louboutin-inspired stiletto shoe. A hand-sculpted high-heel-resembling leg supports the chic table at one end, while the other end consists of a curved plank. Made from solid stacked walnut, the Stiletto was finished on the underside in polished red acrylic, elegantly resembling the signature red-soled Christian Louboutin footwear. Refined drawers are perfectly fitted to glide openwith the use of carefully hidden finger grooves on the underside.
Seeing the pictures, do you think it would make a great gift or would you keep it to yourself?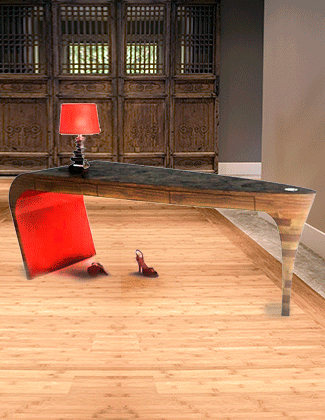 Now that you've found the right shoes, how about the rest of the outfit?
Accessorizing is a must for any outfit. Furniture is no exception. In this case the right table deserves the right floor. (yes CWI handles that too!) And for that we absolutely love this ecofriendly Bamboo Design  by Teragren.
Click here >>> TERAGREN learn more about the ecofriendly, beautifully designed flooring products from Teragren.