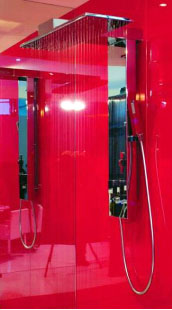 The Tender rain Ergon brand merges advanced technological and innovative projects with attractive design delivering class to the shower area.
The Tender Rain invigorating rain shower system simulates the real one, focusing on comfort and considerable water savings. With accessories to enhance the bath taps create lines that are minimal and elegant.
Architect Luca Scacchi, fused the reflective surfaces of metal and water, with bright flashes of natural stone and sounds taken from the flow of water to recreate the inspired  musicality of the falls, The result  is a work of art that mixes aesthetic beauty, sounds and shapes.