TRENDING NOW:
Light-emitting Wallpaper
Dutch designer Jonas Samson's light-emitting wallpaper concept makes it possible "to use a two-dimentional flat surface as light source instead of a 3D object. As long as the wallpaper is turned 'off', it is indistinguishable as a source of light. Instead, it is just what it appears to be: wallpaper."  >> 
www.jonassamson.com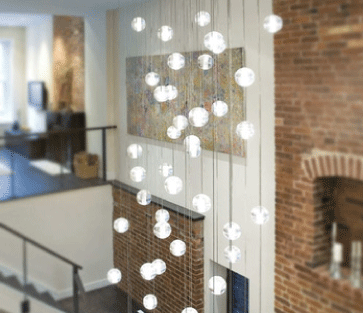 14.36 Pendant Light 
The 14 Series are a family of low voltage pendant lighting products designed to be clustered in groups. Each individual pendant is an articulated, seamed, cast glass sphere with a frosted cylindrical void which houses a 10 watt xenon or halogen lamp. Unlike most contemporary lighting, the 14 Series pendants are visually quite subtle in and of themselves – they do not dominate a room. Instead, they are designed for clustering – gaining tremendous visual strength when multiplied – the effect being of many tiny candles encased in floating spheres of water. The light interacts with the imperfections and bubbles of the cast glass to make a visually rich halo of light. Cast glass is an organic process – imperfect by nature – so each piece produced is unique. >> 
www.ylighting.com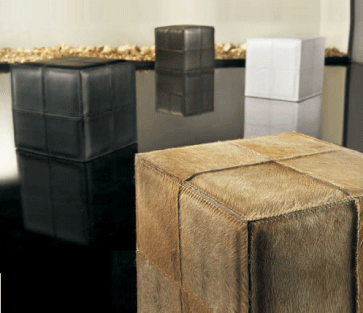 Dacre Bench
The Dacre Bench features a cross stitching design in fully wrapped leather or synthetic hair. The versatile cubed form works as single seating, rest spot or small side table. Imported. Select Black, White or Whiskey leather or Beige synthetic hair. >> 
www.yliving.com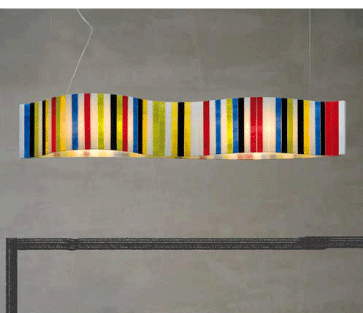 Ventopop Pendant Light 
In an homage to the Pop Art movement of the 1960s, Arturo Alvarez presents the wildly popular Vento series in a unique color combination. Produced in extremely limited editions of only 500 units, the Vento POP is available as a table lamp and suspension in two sizes as well as a wall sconce. Every Arturo Alvarez stained glass diffuser is handcrafted one-by-one by trained artisans in limited series. Each Arturo Alvarez original is yours alone; no two pieces are exactly the same. Following the painstaking production process, Arturo Alvarez himself engraves his signature and the series number onto the finished diffuser, certifying that the craftsman has exceeded Arturo's personal standards for quality. Arturo Alvarez does not manufacture lights; they create original works of art whose beauty is optimized by illumination
>> 
www.ylighting.com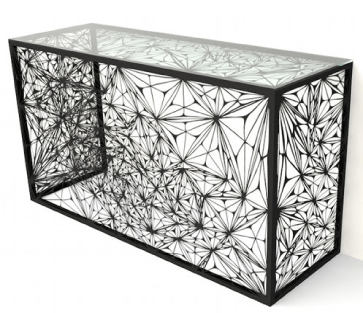 Nebula Console 
The algorithmically generated pattern of the Nebula explores the formation and organization of the cosmos. Dynamic and delicate, the Nebula Console can be used with or without the included glass top and is available in Black or White powder coat finish.
>> 
www.yliving.com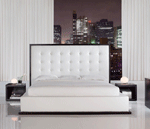 Ludlow Leather Bed 
Really digging the white leather on this bed from Modloft. The 5′ headboard would make quite a statement in a bedroom! 


>> 

www.yliving.com